Joe Biden has nominated a female admiral to lead the U.S. Navy, and if confirmed, she would become the first woman to lead a military branch at the Pentagon.
Admiral Lisa Franchetti, currently the deputy chief of naval operations, will also be the first female member of the Joint Chiefs of Staff.
In a statement, the US president highlighted her 38 years of experience, saying: "During her career, Admiral Franchetti has demonstrated extensive expertise in operational and policy areas."
Biden also noted that she is the second woman in the history of the U.S. Navy to earn the rank of four-star general.
Pentagon officials had expected the nomination to go to Naval Commander in the Pacific and TOPGUN graduate Admiral Samuel Paparo, according to US media reports.
Instead, Admiral Paparo was named commander of U.S. forces in the Pacific.
Admiral Franchetti is a surface warfare officer who has served at various levels of command, leading the U.S. Sixth Fleet and U.S. Naval Forces Korea.
She also commanded a Navy destroyer and served as carrier strike group commander twice.
Last year, Biden appointed Admiral Linda Fegan to lead the U.S. Coast Guard, making her the first female commander, even though the Coast Guard is part of the Department of Homeland Security rather than the Department of Defense.
Admiral Franchetti will serve as acting commander following the expected retirement of Admiral Michael Gilday next month.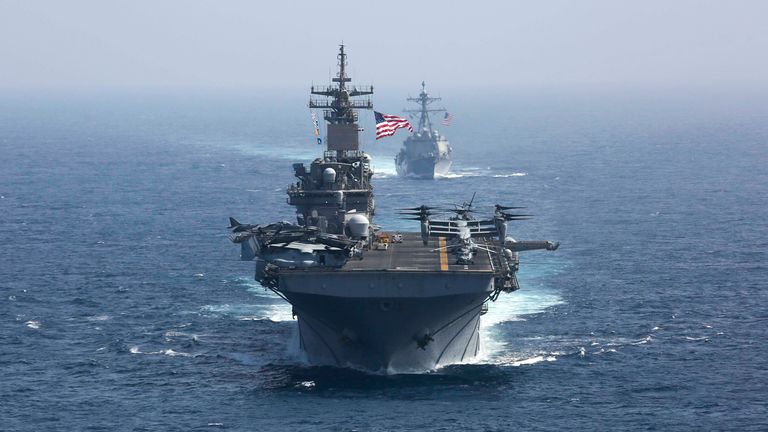 senate block
Presidential nominations must be confirmed by the U.S. Senate.
Sen. Tommy Tuberville, R-Alabama, who blocked hundreds of military operations, blocked the confirmation of officers in protest of the Department of Defense's policy of reimbursement for service members traveling to other states for abortions.
In a statement, Biden said Tuberville's blockade was "wrong" and "dangerous."
No matter where you get your podcasts, you can click to subscribe to Sky News Daily
"He is risking our ability to ensure that the U.S. Armed Forces remains the most powerful fighting force in the history of the world. His Republican colleagues in the Senate know that too," he said.
No woman has ever led the Royal Navy, although Jude Terry became the Royal Navy's first female admiral last year.